Frequently Asked Questions: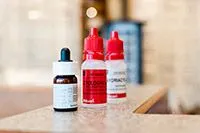 How long does an appointment take?
A typical appointment takes between 45-60 minutes depending on the complexity of the situation and whether or not dilating eye drops are used.
What should I bring to my appointment?
Please bring any glasses or contacts you wear, a list of medication, and your health card.
Will I get eyedrops?
Dilating eyedrops are recommended once a year for those over 65 and those with conditions such as diabetes and every 2-3 years for younger adults. Those under 20 will be offered eye drops on a case-by-case basis. However, patients always have the option to choose whether or not the drops are used.
What age should children begin having eye exams?
Current recommendations are for children to begin eye exams at 6-9 months of age.
Do you sell eyeglasses? Contacts?
Eyeglasses and contacts are available on site via our partners at Optical Factory.
How do I book an appointment?
Please call us at 905-543-1110 or submit an appointment request and we will get back to you.