Pachymetry is a simple, quick, painless test for glaucoma, an eye disease that can cause vision loss and blindness. Glaucoma is more likely to develop in people with a thin cornea, which is the transparent layer of tissue covering the front of the eye. An eye doctor uses pachymetry testing to measure corneas as a way to gain a better understanding a patient's risk for glaucoma.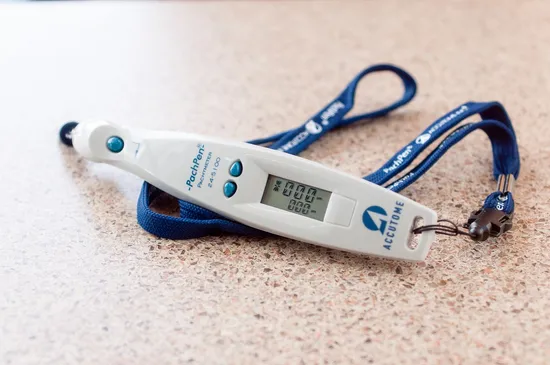 Eye doctors use a number of different types of eye exams to diagnose vision problems, such as glaucoma. The most common type of eye test for glaucoma measures intraocular eye pressure (IOP), which is the amount of pressure inside the eye. A high fluid pressure within the eye damages the optic nerve, which transmits information about the images the eye captures to the brain.
The thickness of the cornea can mask the IOP readings. Patients with thin corneas often show artificially low IOP, which means they are at risk for developing undetected glaucoma. Without prompt detection and treatment, these patients are at higher risk for vision loss associated with glaucoma.
Those with thick corneas may have artificially high eye pressure readings, which puts them at risk for unnecessary glaucoma treatment.
About Pachymetry Tests
The pachymetry test gives an eye doctor a better understanding of the patient's IOP reading and helps the eye care professionals develop a treatment plan for that patient.
There are two main types of pachymetry: ultrasound, which utilizes sound waves to create images, or optical pachymeters that use microscopes.
To perform pachymetry, an eye doctor uses a special hand-held device known as a pachymeter. The eye cares professional touches the tip of the pachymeter to the cornea, and the pachymeter instantly measures the thickness of the transparent tissue covering the front of the eye. Pachymetry reports corneal thickness in micrometers (µm). A healthy cornea is usually about 540 micrometers thick, which converts to 0.01 inch.
Aside from determining a patient's risk for glaucoma, eye doctors also use pachymetry tests for other purposes. The painless test is helpful in determining the thickness of a patient's cornea before refractive eye surgery, in which a doctor removes a thin layer of cornea to improve the patient's visual acuity. Eye doctors also use pachymetry to assess donor corneas for transplantation and to assess the outcome of such surgeries. Eye care professionals also use the test to detect other eye problems, such as dry eye, complications from contact lens use, and even diabetes.
Our eye doctor in Hamilton Ontario uses corneal pachymetry and other tools to diagnose, treat and manage a variety of eye conditions. Treatments for glaucoma include eye drops, pills, laser surgery, traditional surgery or a combination of these methods, for example.
Crown Point Optometry is located at 5-1241 Barton Street East in Hamilton, ON. Look for us within the Optical Factory at The Centre on Barton, between Scotiabank and Boston Pizza. Make an appointment by contacting us at 905-543-1110.